Gut von Beiden – Kleinfischlingen
Starting out as independent winemakers in 2013, we have produced original, pure wines ever since – wines that show their varietal typicity in every aspect. We have spent the past few years purposefully developing our business further and are now, since summer 2022, certified organic wine manufacturers. We would be delighted to introduce you to our current selection!
Opening times
Monday to Friday:
8am – 12.30pm and
1.30pm – 5pm
Saturday: 10am – 3pm
Address
Hauptstr. 25
67483 Kleinfischlingen
two friends, one vineyard
Taking over the Laqué family business in December, 2013, Jochen Laqué and Philipp Müller created their own venture, "Gut von Beiden". A winemaker and BBA, the pair set new priorities and focussed on direct marketing.
The 28 ha. estate, mostly situated around the village of Kleinfischlingen in the Palatinate, boasts very fertile loam soil which produces high-quality fruity wines. The more calcareous 4 ha of vineyards in Appenhofen, 20 km from the main estate, lend more delicate and mineral notes to their varieties.
Before the founding of their own brand, the vineyard focussed on the production and sale of grapes only, typically growing an equal ratio of red and white wine grapes. At the time, the prevailing varieties were Dornfelder, Regent, Müller and Riesling. In recent years, however, nearly 10 ha. have been re-planted with Chardonnay, Scheurebe, and Cabernet Sauvignon, as well as Pinot Grigio and Pinot Noir. Since 2018, the vineyard has adhered to strict ecological standards, attaining their first annual certification in 2019. For the past three years, the company has focussed on fungus-resistant varieties such as Sauvignac and Satin Noir.
Enjoy discovering our wines!
Fungus Resistance
The term PIWI (short for pilzwiderstandsfähig, fungus-resistant) refers to grape varieties obtained through crossing to combine typical characteristics and resistance.
This selective cultivation creates innovative varieties that pave the way for more sustainable and climate-adjusted winegrowing in the future. All accredited PIWI varieties are produced via traditional cultivation methods.
We are a proud member of PIWI International, an association which has long been lobbying both domestically and internationally for the adjustment of current winegrowing practices to these varieties and their manifold merits.
Since 2020, all new wines have been exclusively produced from PIWI wines, and we are having a blast with their cultivation and development. So, join us in the upcoming years as we continue our quest to discover exciting new grape varieties, constantly adding new wines to our range. We hope you'll have just as much fun as we do!
Hello! I'm Philipp.
I studied viticulture and enology in Geisenheim. I came to viticulture through my grandfather, who ran a small vineyard in Kleinfischlingen as a sideline.
In Germany, I gained a lot of experience at the Ellermann-Spiegel Winery. During my studies in Geisenheim, I worked for one autumn at Schug Carneros Estate Winery in California, USA. After finishing my studies, I was able to further deepen my knowledge in Australia at Pikes.
Since May 2013, the Palatinate has had me back and from then on my full concentration has been on the Gut von Beiden.
Hello, I'm Jochen.
I trained as an industrial clerk and am a business economist. I came to viticulture through my parents. They ran a wine-growing business and farm in Kleinfischlingen for generations. I have been working in this business since my earliest youth.
Since my heart has always been in viticulture, I decided to take over my parents' farm together with Philipp. This is how "Gut von Beiden" came about.
Let yourself be surprised by our wines.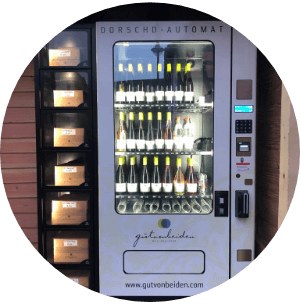 Dorschd-Automat
Good drops at the push of a button
Allow me to introduce our new employee, called DORSCHD-AUTOMAT ("Thirst machine")!
Around 20 different wines and wine packages are available here chilled 24/7 and 365 days a year - grape juice, water and a Palatinate Dubbeglas are, of course, not to be missed. Our "Dorschd-Automat" is located in front of our winery at Hauptstraße 25 in beautiful Kleinfischlingen.
So after work and at the weekend, you can draw a bottle or a 6-case wine just the way you like it. Alternatively, we can leave your order in the box if you can't make it during our opening hours.
Payments can only be made without cash by EC card, credit card or MobilePay. Please remember to bring your ID or driving licence for age checks.
Dorschd?
(in english: thirsty already?)
Acquire a taste for our wines
Single-variety Wines
Our single-variety estate wines are a perfect companion for every occasion. Harvested at the height of the ripening process, they are cultivated to strengthen the grape's individual characteristics to produce uncomplicated, fruity wines to be drunk young.
Estate Wines
In order to cultivate such complex and expressive wines, a perfect grape quality forms the basis of all our single-vineyard wines. This entails a consistent yield reduction to less than 40 hl/ha in order to ensure the long and healthy ripening process of the grapes. Due to the relatively barren, calcareous soil at Appenhofen, the vines absorb a perfect mix of minerals from the bedrock. Partial spontaneous barrel-fermentation produces a complex and multi-layered end product.
offline shopping and retailers
Take a look at the map below for an overview of retailers in Germany who carry our wines.
If you are a local or planning a trip to the Southern Palatinate, simply pop in during our opening hours or give us a call. We look forward to telling you more ab out our wines during a free tasting.
Don't want to miss out on any news?
Sign up for our newsletter to receive regular updates and special offers from us.
The wine guides Eichelmann, VINUM & Gault Millau have published their new editions with the tastings for 2023.
We look forward to hearing from you!
Outside of opening hours we can't guarantee that someone will be on site. Please call us in advance!
Pop in and say hi
Hauptstr. 25
67483 Kleinfischlingen